Mayan Experience Tour
The most authentic experience in Costa Maya!
best value
Why we're your best choice
Direct booking

You're reserving directly with the tour operator so you get the best rate!

No booking fees

It is what it is, no extra fees or charges.

Instant confirmation

Get your confirmation instantly.

The best guides

Yes, we do have the best guides in the region.

Back to ship on time guarantee

You'll be back to the port in plenty of time before boarding time, guaranteed!

No port, no pay!

Guaranteed full refund if your cruise ship doesn't call port in Costa Maya at all.

We're flexible

You can change tours, number of participants or tour date (subject to availability).

Free 48hr cancellation

Full refund if you cancel 48 hours before the tour departure time.
Mayan Experience Tour
We're delighted to share our passion for culture and history in this 5.5 hour interactive experience that will immerse you in a journey from the past at Chacchoben Ruins to the world of present-day Maya descendants at Chacchoben Village.
Witness daily life and celebrate the colorful culture of the modern Maya as it unfolds right before your eyes. Learn the secrets behind the perfect tortilla in a one-on-one tortilla lesson, learn about traditional home remedies, savor a traditional Maya meal, make new friends, and see the world through the eyes of a Maya.
The Mayan Experience Tour includes the Chacchoben Maya Ruins Tour, plus a visit to Chacchoben Village where you'll be hosted by a local family for a personal interaction at their home.
No visit to a Maya home is complete without a meal. The highlight of this experience is a tasty lunch cooked with local spices and fresh ingredients specially for the occasion. We guarantee an authentic meal with traditional flavors tourists simply can't have anywhere else in Costa Maya.
---
Mayan Experience Tour summary
Rate definitions
Adult: $75.00 Ages 13 years old or older
Child: $65.00 Ages 6 to 12 years old
Infant: Free! Ages 5 years old or under
Rates are in US Dollars.
We accept up to two infants free of charge per family, child rate will apply beyond that.
What's included
Round transportation
English speaking guide *Disponible en Español
Entrance fees to Chacchoben
Tickets to the ruins site
Guided tour
Bottled water
Visit to a local family at Chacchoben Village
Authentic lunch
Not included
Copyright fee for video recording at the ruins site
Gratuities for guides/drivers
Tour Duration
5.5 hours
Departure times
Daily departures with limited availability on Christmas and New Year's day.
Earliest departure for cruise ship guests is one hour after the ship docks.
Tour departure point
This tour departs from The Native Choice Kiosk, a few steps outside the port. Tour confirmations include easy to follow directions, contact numbers and a map.
Be aware
In Costa Maya the port is privately owned and controlled by the cruise lines. Local companies aren't allowed to pick up guests nor have representatives there.
Services and excursions at the port are sponsored by the cruise lines, anyone planning to use any local service must expect to leave the port to find their service provider.
Payment information
A deposit of $15.00USD per person is required to confirm spaces for this tour, balance payment will be required at check-in.
Deposits are fully refundable if for any reason your cruise ship doesn't call port at all in Costa Maya.
Online payment of the reservation total or remaining balance is possible within 21 days (3 weeks) before the tour.
Booking fee
We don't charge booking fees nor any other extra fees.
Cancellation policy
48 hours before the tour to avoid a $15.00USD per person fee.
Level of exertion
This is a walking tour suitable for people with a basic level of fitness and health. Participants must be comfortable with outdoors and be able to walk on trails under the jungle expecting a few rocks and roots along the way.
Weather
This tour operates rain or shine.
Restrictions
This tour is better appreciated by children ages 6 y/o and older.
There's a $5.00USD copyright fee (not included in the tour price) for the use of video cameras at Chacchoben, this fee is paid directly at the site.
Tripods and drones aren't allowed into the ruins site.
Recommendations
Wear comfortable walking shoes.
Bring a hat and sun screen if you visit during the summer.
Bring extra cash for shopping, credit cards aren't accepted at Chacchoben.
---
Mayan Experience Tour timetable
This tour is completed in 5.5 hours
50 min
Travel time Costa Maya to Chacchoben Ruins
10 min
Break to use facilities
1 hr 30 min
Tour of the Chacchoben Ruins
15 min
Travel time Chacchoben Ruins to Chacchoben village
1 hr 50 min
Visit to a Maya family and lunch
50 min
Travel time Chacchoben village to Costa Maya
---
Mayan Experience Tour gallery
All images are copyrighted
---
Mayan Experience Tour additional info
The ride from Chacchoben Ruins to Chacchoben Village takes approximately 10-15 minutes. The road is narrow and we recommend to enjoy the ride since the experience starts when you see the people walking on the road side with their loads of corn or firewood. Have your camera ready as we may find something interesting on our way.
Lunch will consist of only traditional Maya dishes, cooked with local spices and ingredients. The recipes will be explained during your visit and you'll also have the opportunity to see and taste the ingredients and spices added to your meal. Expect a meal way beyond tacos, quesadillas and what's usually offered to tourists as Mexican food, we offer our guests the authentic flavors of the Yucatan.
The Maya diet is based mainly in vegetables but for this special occasion you'll find chicken or turkey. If you don't eat meat, let us know ahead of time and we'll have something that suits your needs, please be as specific as possible and let us know if fish and/or dairy products are acceptable.
We're also able to accommodate guests with special diets. The Maya diet doesn't regularly include wheat, barley or rye. If anyone in your party is allergic to nuts, crustaceans or gluten, just let us know, we can accommodate your needs.
Food safety is one of top priorities for this excursion. Families hosting tourists at their homes received extensive training on how to cook and handle food safely. They're also recertified by the health department every three months. The food included in this excursion is perfectly safe and the ingredients used are fresh and available for you to see and taste. We use only purified water and ice.
There aren't places where they sell crafts to the visitors at the village. All pieces produced are taken to the ruins for sale, however, don't be surprised if you find a small collection of pieces at the home you're visiting.
Please don't hesitate to contact us in case you need any further details or if you need any kind of assistance. It will be our pleasure to help you!
Similar tours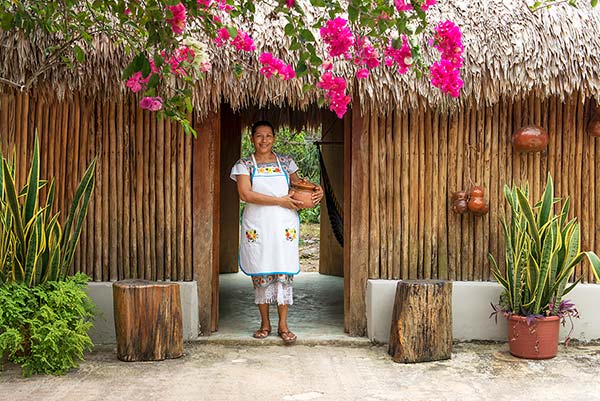 An educational, fun, delicious and refreshing adventure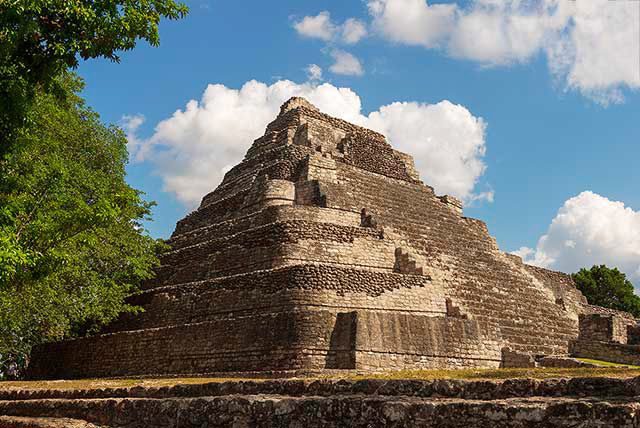 Costa Maya's most visited mayan ruins site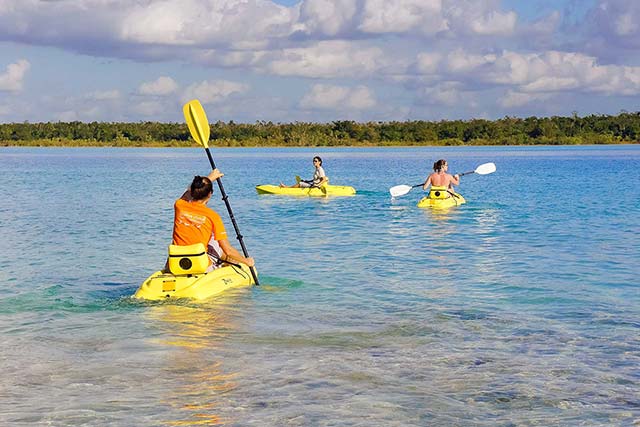 Chacchoben ruins + Seven Color Lagoon