Kohunlich-Dzibanche Ruins Tour
The ultimate Maya ruins adventure in Costa Maya!
best value
Why we're your best choice
Direct booking

You're reserving directly with the tour operator so you get the best rate!

No booking fees

It is what it is, no extra fees or charges.

Instant confirmation

Get your confirmation instantly.

The best guides

Yes, we do have the best guides in the region.

Back to ship on time guarantee

You'll be back to the port in plenty of time before boarding time, guaranteed!

No port, no pay!

Guaranteed full refund if your cruise ship doesn't call port in Costa Maya at all.

We're flexible

You can change tours, number of participants or tour date (subject to availability).

Free 48hr cancellation

Full refund if you cancel 48 hours before the tour departure time.
Kohunlich-Dzibanche Ruins Tour
Explore the palaces of Kohunlich and enjoy breathtaking views of the jungle from the top of the pyramid-temples of Dzibanche Ruins on the same day!
We're very proud to offer a combined tour of the two most representative Maya ruins sites accessible from Costa Maya. Explore the secrets of Kohunlich Ruins and admire one of the greatest examples of urban organization at Dzibanche Ruins.
Climb Temple One at Dzibanche and then admire the beautiful masks representing Kinich Ahau, the Sun God for the ancient Maya at Kohunich.
---
Kohunlich-Dzibanche Tour summary
Rate definitions
Adult: $100.00 Ages 13 years old or older
Child: $85.00 Ages 6 to 12 years old
Infant: Free! Ages 5 years old or under
Rates are in US Dollars.
What's included
Round transportation
English speaking guide *Disponible en Español *Visite francophone disponible
Entrance tickets to Dzibanche
Entrance tickets to Kohunlich
Guided tour at both sites
Bottled water
Box lunch (turkey sandwich, fruit, juice or soda, bag of chips or granola bar)
Not included
Copyright fee for video recording at the ruins sites
Gratuities for guides/drivers
Tour Duration
7.5 hours
Departure times
Daily departures except on Christmas and New Year's day.
Earliest departure for cruise ship guests is one hour after the ship docks.
Tour departure point
This tour departs from The Native Choice Office four blocks from the Costa Maya Port. Tour confirmations include easy to follow directions, contact numbers and a map.
Be aware
In Costa Maya the port is privately owned and controlled by the cruise lines. Local companies aren't allowed to pick up guests nor have representatives there.
Services and excursions at the port are sponsored by the cruise lines, anyone planning to use any local service must expect to leave the port to find their service provider.
Payment information
A deposit of $15.00USD per person is required to confirm spaces for this tour, balance payment will be required at check-in.
Deposits are fully refundable if for any reason your cruise ship doesn't call port at all in Costa Maya.
Online payment of the reservation total or remaining balance is possible within 21 days (3 weeks) before the tour.
Booking fee
We don't charge booking fees nor any other extra fees.
Cancellation policy
48 hours before the tour to avoid a $15.00USD per person fee.
Level of exertion
This is a walking tour that requires a very good level of fitness and health. Participants must be comfortable with outdoors, be able to walk at a steady pace on uneven grounds under the jungle for extended periods of time.
Climbing to the top of the temples is optional, it could be challenging and is not recommended for anyone with fear of heights.
Weather
This tour operates rain or shine.
Restrictions
We require that your cruise ship stays in port for at least 10 hours to participate in this tour.
This tour combination isn't wheelchair friendly nor recommended for people with difficulties to walk.
Children ages 5 y/o or younger can't participate in this tour.
This tour is better appreciated by children ages 6 y/o and older.
There's a $5.00USD copyright fee (not included in the tour price) for the use of video cameras at the ruins sites, this fee is paid directly at the entrance of each site.
Tripods and drones aren't allowed into either ruins site.
Recommendations
Wear comfortable walking shoes.
We recommend a good sun block lotion and bug repellent during the rainy season.
Bring extra cash just in case you want to buy a snack.
---
Kohunlich-Dzibanche Tour timetable
This tour is completed in 5.5 hours
2 hr 10 min
Travel time Costa Maya to Dzibanche Ruins
10 min
Break to use facilities and prepare for Dzibanche
1 hr 15 min
Tour of the Dzibanche Ruins
30 min
Travel time from Dzibanche to Kohunlich
10 min
Break to use facilities and prepare for Kohunlich
1 hr 15 min
Tour of the Kohunlich Ruins
10 min
Break to use facilities and enjoy a snack
1 hr 50 min
Travel time Kohunlich to Costa Maya
---
Kohunlich-Dzibanche Tour gallery
All images are copyrighted
---
Kohunlich-Dzibanche Tour additional info
The Kohunlich-Dzibanche Ruins Tour visits the ruins of Dzibanche first, and then the ruins of Kohunlich.
The ride from Costa Maya to Dzibanche Ruins takes around 2 hours 10 minutes. Most of the way the road is fairly new and in perfect conditions, however, the last 30KM the road becomes narrow and during the rainy season it could get a little bumpy.
Total walking distance to see all sections available for visitors in Dzibanche is around one mile.
After touring Dzibanche we travel for approximately 30 minutes to Kohunlich for the second part of the tour.
Kohunlich, involves more walking than Dzibanche since some sections could be away from the others. Expect to walk more than one mile at this site.
It's possible to climb most of the buildings at both sites.
Both sites have clean bathrooms at the entrance. The tour will stop at the service area of each site to allow time to use the facilities before entering the sites for the guided tour.
Please don't hesitate to contact us in case you need any further details or if you need any kind of assistance. It will be our pleasure to help you!
Similar tours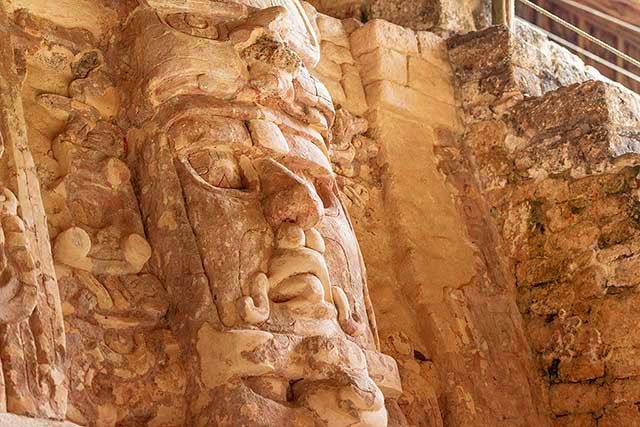 The largest ruins site accessible from Costa Maya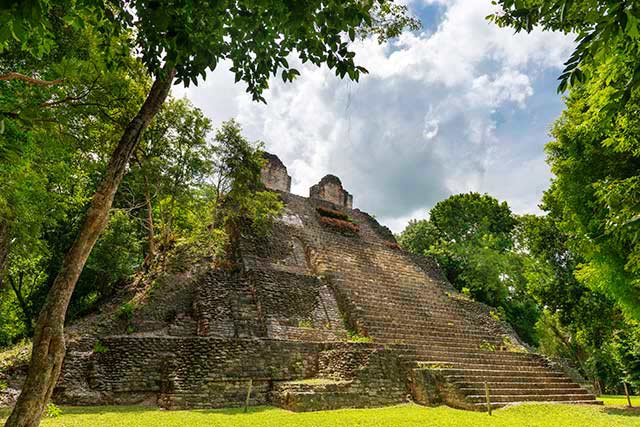 A must for any Maya ruins enthusiast.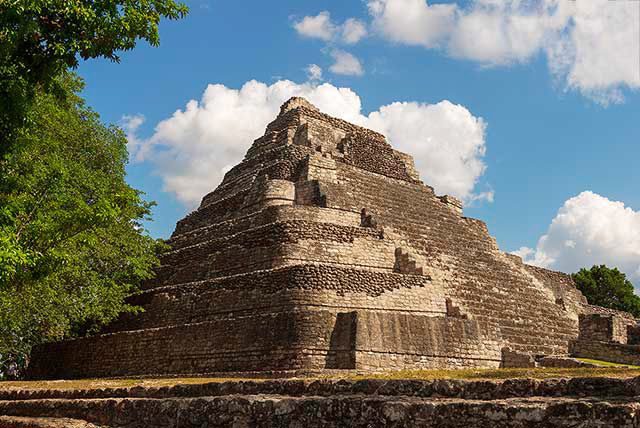 Costa Maya's most visited mayan ruins site